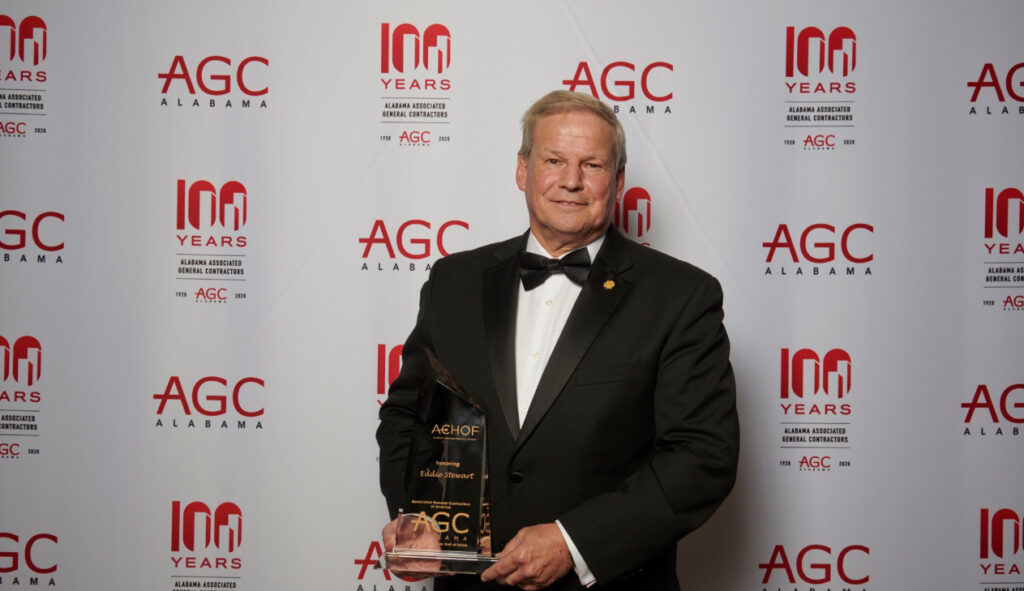 Caddell Construction's president and chief executive officer, Eddie Stewart, has been inducted into the Alabama Construction Hall of Fame. 
The honor was bestowed by Alabama Associated General Contractors (Alabama AGC) at a ceremony held on January 16th. 
Stewart is currently in his 41st year of a very successful career in construction that has spanned a wide range of projects and markets. His diverse domestic and international project background includes U.S embassies, correctional facilities, courthouses, barracks, airports, power plants, research and development complexes, hospitals, and other commercial and industrial initiatives.
He earned a B.S. Degree in Building Construction from the Georgia Institute of Technology in 1978 and later completed the Executive Program at the Darden School of Business, University of Virginia. A member of the original founding team at Caddell's inception in 1983, he has risen through the ranks from estimator to his current position as President and Chief Executive Officer.  
"I consider him a legend in the business," said Mac Caddell, the company's executive vice president. "I can't think of anyone that deserves this honor more than Eddie. He has a great construction mind, as well as a great business mind," he said. "Caddell has been tremendously blessed by his leadership."
Stewart has been very active in the Associated General Contractors of America throughout his career and has served in leadership positions on the national and state level. In 2018, he became the first national president from Alabama in the Association's 100-year history.
Photo courtesy of Alabama AGC.