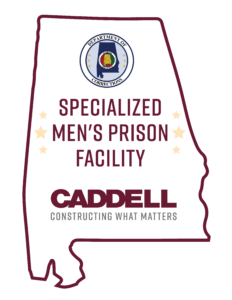 Caddell Construction of Montgomery, AL is performing as the Design-Build general contractor on the Alabama Department of Correction's new Specialized Men's Prison Facility in Elmore County, AL. The new facility will include enhanced space for medical, mental, and other health care needs, substance abuse and treatment space, and educational and programming space.
NON-MANDATORY PRE-BID CONFERENCE
Friday, April 28, 2023 | 10am – 12pm
RSA Activity Center | 201 Dexter Ave, Montgomery, AL
NOTE: All attendees must have an executed non-disclosure agreement (NDA) on file in order to enter the event. Please email cindy.casebere@caddell.com for this document and return the signed copy to her via email or bring a signed copy to the event.

Caddell is actively soliciting bids from subcontractors and material suppliers for the following trades:
03 – Concrete
04 – Masonry
05 – Metals
06 – Wood, Plastics, and Composites
07 – Thermal & Moisture Protection
08 – Openings
09 – Finishes
10 – Specialties
11 – Equipment
12 – Furnishings
13 – Special Construction
32 – Exterior Improvements
Click here to fill out RFQ.
Download completed form and email to cindy.casebere@caddell.com.
Bidding documents were available on April 17, 2023, and price proposals will be due on May 12, 2023. Bids are NOT publicly opened. For a detailed description of the requirements for each trade and bidding procedures, please contact Cindy Casebere at cindy.casebere@caddell.com. In the email, please include your company's name and contact information along with the type of work and/or materials you are interested in quoting.

Please register at www.mvpalabama.com  for TRAINING AND BUSINESS DEVELOPMENT OPPORTUNITIES – Eligible businesses registered with MVP will receive guidance to compete for public construction, goods, and professional service contracts. The program is designed to provide ongoing support to nurture the growth and success of Alabama's minority businesses.
Minority Businesses: Ethnic Minority: Black American * Hispanic American * Native American * Asian American * Pacific Islanders * Diverse: Woman-Owned * Veteran-Owned